Energy most positive for Sun/Moon/Rising in: Aries, Taurus, Leo, Sagittarius, Capricorn
Energy most challenging for Sun/Moon/Rising in: Gemini
Mixed or moderate energy for for Sun/Moon/Rising in: Cancer, Virgo, Libra, Scorpio, Aquarius, Pisces
Maximum intensity for Sun/Moon Rising in: Leo, Virgo, Sagittarius
Wednesday, August 21st, 2019
Venus moves into Virgo at 3:06am MT, where it will remain until September 15th
Venus rules our love language in relationships and when the planet of relationships moves into Virgo, people tend to show their love and appreciation in more practical, service-oriented ways. If you find your partner doing the dishes or taking care of little details around the home to help relieve you of some of the stress of your daily routine, take this as an act of love and reciprocate! In financial matters, Virgo makes us more frugal and subdued, preferring more humble, practical purchases and styles over extravagance.

Mercury in Leo trine Jupiter in Sagittarius! Exact at 4:05am MT
When Mercury, ruler of communication and intellectual thought, teams up with Jupiter, the planet of wisdom, philosophical beliefs and higher perspective, people gain a newfound sense of perspective in their overall mindset. This is a great energy for thinking forward into the future and making far-reaching plans to engage with our passions. This energy is great for travel and instills both a sense of adventure and enough attention to detail to see that nothing important gets left behind.
*Note: Wednesday, August 21st through Thursday, August 22nd at 3:32pm provides wonderful electional astrology (electional astrology=the art of good timing) for practical, material and financial matters of all kinds. Communications are clear, optimistic and well-received.
Friday, August 23rd, 2019
Welcome to Virgo Season! The Sun moves into Virgo at 4:02am MT
Happy birthday to my Virgo Sun sign readers! Today the Sun moves into the pragmatic, detail-oriented sign of Virgo making this next month an optimal time to define and refine your strategies for achieving your goals! The highest expression of Virgo is to show up in service of others in ways that are practical and grounded and these next four weeks provide ample opportunity to do just that!

PS: I'm bringing back my Monthly Zodiac season newsletter beginning with Virgo Season! Follow this link to subscribe and receive a free, written overview of what this Zodiac month has in store for your sign!
Saturday, August 24th, 2019
Venus conjunct Mars in Virgo! Exact at 11:04am MT
Passions and desires take hold under the influence of Venus conjunct Mars, even in the more grounded sign of Virgo! Now is a time to jump full force into the relationship dynamic or creative pursuit you deeply crave! This energy is highly sexually charged and brings opportunities to be expressed through intimate relationships.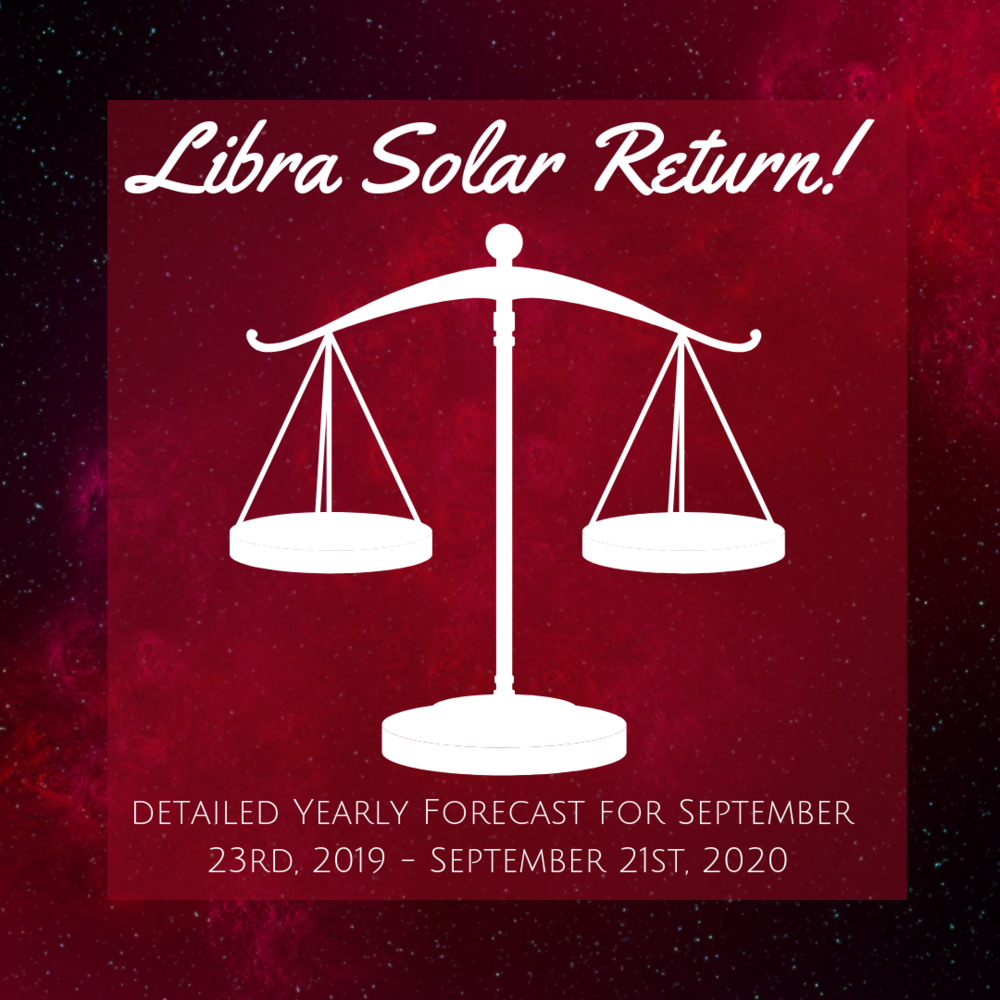 Libra Season is approaching!
Calling all Libras! Only two weeks left to pre-order your Libra Solar Return Forecast to receive 25% off! Learn more…